Take a Depression Test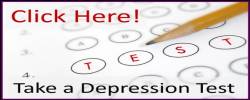 Do you want to take a depression test? If so, then you have come to the right place. While I can't provide the Beck Depression Inventory because it is copyrighted, I am able to provide you with a comprehensive test. Simply click on the link below to get started. It will only take you a few minutes and once your done, depending on your results, I encourage you to schedule a free consultation with me. You'll see a link in your test results or click on the image over there to your right!
Options to Take a Depression Test
When you take a depression test on-line, it is important to know that the results should be used as a simple reference point and not as a way to diagnose yourself with a form of depression or any other mood disorder. In order to get a real diagnosis it is important to seek out the evaluation and diagnosis by a trained mental health professional.
So, with that said, here is a list of other self assessments for you to consider as you seek answers and learn more about your situation.
Learn about Depression Symptoms or go to the home page.