Cymbalta Dosage:
What is The Right Dosage For You?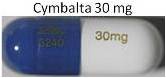 The Cymbalta dosage varies depending on what condition you are treating. Cymbalta is used to treat five (5) primary illnesses that include Major Depression Disorder, Generalized Anxiety Disorder, Diabetic Peripheral Neuropathic Pain, Fibromyalgia and Chronic Musculoskeletal Pain. The treatment for each of these will be somewhat different, hence the dose is different as well.
<
Recommended Cymbalta Dosage
The recommended Cymbalta dosage, based on the published Product Guide, are as follows:
Major Depressive Disorder: Starting daily dose is 40 mg and should be taken in two separate 20 mg doses. In "maintenance mode" the recommended dose is 60 mg and can be taken all at once or as two separate 30 mg doses. The maximum dose, while not recommended is 120 mg/day. In fact, this high of a dose has not been thoroughly studied. Also, there has not been any significant proof that any dose higher than 60 mg's provides any additional benefits.
Generalized Anxiety Disorder: Starting daily dose is 60 mg and should be taken all at once In some cases, it may be recommended to start as low as 30 mg's for the first week then increase to the maintenance dose of 60 mg.
Fibromyalgia: The typical dose is 60 mg's / day. However, it is recommended that the patient only take 30 mg's / day so that there is some time to adjust to the medication .
Diabetic Peripheral Neuropathic Pain: The patient should take 60 mg / day in most cases. However, if renal impairment is present then starting with a lower dose should be considered and then gradually increase to the recommended daily intake.
Chronic Musculoskeletal Pain: The same dose as recommended for Fibromyalgia starting out at 30 mg / day and increasing to 60 mg / day once in "maintenance mode". In all cases, the efficacy rate beyond a 3 month period has not been studied in formal clinical trials. As a result, it is important to get re-evaluated on a regular basis to see if the medication is still working and/or if a change to the dose needs to be considered.

Also, doses should be increased in 30 mg increments and should take place over a longer, controlled period of time. And, if you decide to get off the medication then you should also do this gradually to avoid Cymbalta Withdrawal Symptoms
How to Take Cymbalta
Cymbalta dosage can be taken with or without food – so whatever you are more comfortable with. In any event, the medication needs to be swallowed whole and should not be chewed up or opened up and mixed with food or beverages. This is a medication that is being released gradually throughout the day so taking it whole ensures the appropriate amount of dose being released over time.
This medication should be stored at room temperature. If you miss a dose, you should take it as soon as you remember. Unless it is almost time to take your next dose. In which case you should skip the missed dose and resume with your regular schedule.
Other Pages You Might Want to Check Out
An Overview of Cymbalta Information
Could You Be Experiencing Cymbalta Withdrawal Symptoms?
Learn about Cymbalta Side Effects and how it might be affecting you.
Do you have experience with the side effects of Cymbalta? Share your story with other visitors!
Special Note: The information I am providing to you on this site is purely for educational purposes only and it not intended to recommend any particular antidepressant medication, suggest the use of antidepressants or construe that this is an appropriate treatment option for you. It is highly recommended that you consult your medical professionals before pursuing any specific treatment option.

Cymbalta Dosage to Depression Test Home Page