What Are The
Common Causes of Teen Depression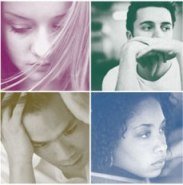 There are many causes of teen depression and what causes depression in one teen may be very different than that of another. The teen depression statistics are downright frightening and eye opening.
Teens are under so much pressure these days. They are trying to fit into social circles, discover their own identity, deal with an amazing amount of peer pressure and, succumb to an overwhelming influx of hormones! Yes, our teens in today's day and age are dealing with so much more than the older generations.
Understanding the common causes of teen depression can be very helpful and the first step towards prevention and early detection.
Causes of Teen Depression
Being bullied at school
Parents divorce
Death of a loved one
Difficult relationship with family and friends
Alcohol and drug abuse
Domestic abuse (physical and/or mental)
Sexual abuse
Relationship break-up
Lack of close friends
Repetitive failures in school, sports, activities
Low self esteem
Family history of depression
Long term illness or disability 
The list can go on and on! While there are many causes, it is important to recognize the signs of teenage depression and intervene as soon as possible!
If teenage depression goes left untreated, the risk of suicide goes up dramatically. According to the National Institute of Mental Heath, suicide is the 3rd leading cause of death in teenagers and for every successful suicide there are 10 additional teen suicide attempts. In fact, 10% of teens have attempted suicide in the last year. Many who are successful tried to seek help before hand to no avail.
If you suspect teen depression there is a teenage depression test available on my site. It's important to note that girls are more likely to suffer with depression. While depression is not as common in teenage boys, it is the boys who attempt suicide more often – usually in a violent way such as shooting themselves.
To minimize the causes of depression in your teen, get involved with their lives, treat them with the respect and dignity that they deserve and show them that you genuinely care about them. Also, don't just shrug things of as just teenage moodiness.
Learn to recognize the signs of teenage depression and seek the help of a professional if you have any concerns. Also, take a look at the The teen depression statistics to further raise your awareness on the subject. You can also read additional information about teen depression at the National Institute of Mental Health.

Causes of Teen Depression to Home Page