Signs of Postpartum Depression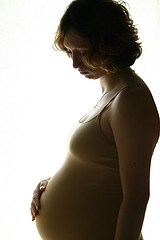 Are you showing signs of postpartum depression? If you just had a baby and are wondering if you might be exhibiting signs of postpartum depression then you have come to the right place. Having a baby is one of the most joyous, but also stressful experiences of your life. Things get a lot more hectic and the world sometimes feels like it is closing in on you.
Most people deal with the stress fairly effectively, but one or two women out of every 100 will experience something known as postpartum, or after-birth, depressive disorder. And, I was one of those 100 people when I had my first daughter in 3004. I was very depressed. I cried all the time and truly felt my life was over. Now I am very happy to be a mother to both of my daughters.
Depressive disorders in pregnancy is common however being depressed after the birth is even more common than people think.
Baby Blues v. Postpartum Depression
The signs of postpartum depression are uniquely different than the "baby blues" which is a hormonal issue that takes place just after giving birth. Baby blues are hormonal based and are typically gone within a day or two. They may begin just a few days after the birth of your child and may last a few days or a week. Typically the hormones adjust themselves in your body and the depressed feelings of sadness will disappear. The symptoms of the baby blues may be quite different from those which you will experience or see when you are experiencing a postpartum depressive disorder.
Baby blues generally present as moodiness, with swings in the mood as well as some level of anxiety, some crying, difficulty in sleeping, as well as lower levels of concentration. These symptoms generally will begin to disappear once the hormones begin to be regulated by the body.
The signs of postpartum depression may appear to mimic a case of baby blues when you first experience it. The symptoms however are far worse than baby blues and may actually interfere with your care of yourself and your new baby. While most cases do not become severe enough, there have been reported cases of women who have injured themselves or their child due to being extremely depressed.
Postpartum Depression Symptoms
Appetite loss
Inability to sleep
Irritability and intense feelings of anger
Lack of pleasure or joy
Lack of interest in the baby and his/her well being
No interest in holding the baby
Intense feelings of guilt
No interest in sex or physical closeness
Extreme fatigue and inability to rest or relax.

When these signs of postpartum depression appear serious and they stay with you for more than just a day or so, you need to seek professional help. You can go to your ObGyn. However, they will usually not diagnose you. Instead they will simply give you an antidepressant to help you get through it. As a result, I recommend seeing a mental health professional as well to ensure a proper, successful treatment plan is put in place. This will ensure a speedy recovery. Recognizing the symptoms and getting help immediately will prevent further depression and more serious issues. Professional counseling, medication and other methods will help you to cope with and to get over the depressed feelings so you can get back into life.

Signs of Postpartum Depression to Depression Test Home Page