Depression Support Groups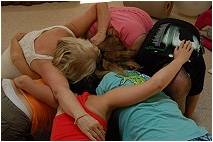 If you are depressed, you probably feel very alone but you don't have to feel that way. A depression support group can be a great way to get the support you need in a very safe environment.  There are plenty of depression support groups available. However, keep in miind, they are for support only. This is not a way to treat depression. Nonetheless, getting support from those that understand can be a big help! 
If you are looking for counseling options, I invite you to schedule a consultation with me! As a National Certified Counselor, I have helped my clients kick depression to the curb and live healthy, happy lives again!
I offer individual and group options. To get started, simply click on the image over there to your right to get started! 
Benefits of Depression Support Groups
Support groups are an effective way to help clients on all kinds of issues including depression, substance abuse, domestic violence, anger management and many others. They are usually help once a week for a specified period of time (mine are usuallyu 8 weeks long) and are run by a trained professional. Once the, say 8 week session is over, you can register for another session depending on where you are in your recovery process.
Some groups are closed enrollment, meaning its not open to newbies, while others are open so that anyone can come at anytime. I typically do closed groups so that I can go through a progressive process with the members. In addition, this allows the members to get to know each other better, creating more safety and security. This way, members will be willing to speakk more freely about their issues.
I have a variety of support groups listed on my depression hotlines page. You can also get support via depression forums and depression chat rooms.
You can find support groups here as well. 
However, if you want to learn about the live group process read on, my friend.
The process is usually something like this:
Meeting 1: Meet and greet - getting to know your group members, learn a little about their stories. This is a great way to learn that you are not alone.
Meetings 2 - 3: Gaining trust - this is when we dig a little deeper into each members experiences, get to know each other better to develop a sense of trust and rapport
Meetings 4 onwards: Therapeutic process - here is where we get down to the nitty gritty and begin to disect the individual triggers of depression, develop an action plan to treat depression and set goals for recovery. It can become a little intimidating at first, however, most people find depression support groups a huge help and instrumental in their road to recovery. As I learn about specific group resources I will post them here. 
Learn about other treatment options or go the the home page.