Depression Poems: **Lost**
by Natalia Mamonova
(Singapore)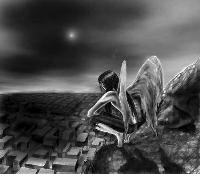 Lost
Alone and forgotten she stands in the rain,


Feeling how droplets mix with the pain.
She's lost in gray fog, in a monochrome world,
And dreams she once had are thoughtlessly swirled.
She inhales the smoke, it gets harder to breathe,
She's becoming the one no one wants to forgive.
And it's too late to catch that one happy moment,
Its already late to see the blue sky,
With tears in her eyes she writes a whole sonnet,
With ache in her heart she's beginning to fly.
~~~~~~~~~~~~~~~~~~~~~~~~~~~~~~~~~~
Natalia,
That is so expressive and heartfelt. I can feel such hopelessness in what you write. I do hope that you are simply expressing yourself and not feeling hopeless as your poem suggests?
You are clearly a very talented writer. What a gift to my site and my visitors. Thank you so much for sharing.
If you need anything please don't hesitate to reach out.
Dana