Depression Poems:
Do you know why?
by Aisha Wahab
(India)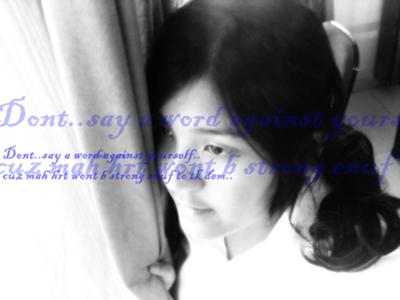 Do u know why...my tearz roll dwn..


cuz my eyez r missin somone around..
missin someone whu cud heal d scratch..
missin smeone whu iz d prfct match...
I ws in d wrld of glee
wen i found it ws gone...
cuz it ws jst a piece of dream..
aftr wich vanishes my dawn.
Il nvr thot v'll end up soon...
frm decembr till d frst june..
srry if i lost d track nd tune...
cuz mah heart jst beats u nd only u.
U tell me u hve tym..so i believe
But as every day pases
it mks me cold in grieve...
Baby..as long as u stay please
b d same...Cuz i wana live
in dese days..nd like a person in luv..
nt insane....
I fell in luv wid u..frm d way u stared
D way u mesmerisd me to evry vein
D way u liked evry kiss u shared..
wich made me frget my tears in pain..
D way u smtymz frgt to say byez..
hehe i swear i cant sleep dose nightz..
D way u walk around nd luk for me...
i hide behind my frnz fr u nt to see...
I wana play wid ur hair..
wana dance widout a care..
nd see i frgot dat u'll b goin smwhr..
Cuz i ask mahslf..were u d reason
y i tumbled on mah way to home..
to catch d frst glimpse of ur txt on d fne..?
y i scribble ur name..evrywhr i go.?
y i dream u nd me in an UFO?
y i liked sticking tonge emotionz? :P
y i wore red evry secnd day?
y i clickd piks of d sky fr my thots to cnvey
dat u were d reasonz fr d abuv..
Now do u knw y my tearz roll dwn??
cuz mah eyez miss mah lyf'z..
puzzle piece around....
A piece whu ws unkwn to b found..
a piece i nvr wana lose nw..