Depressed? Heart broken....
by Dillon Higgins
(Las Vegas, NV)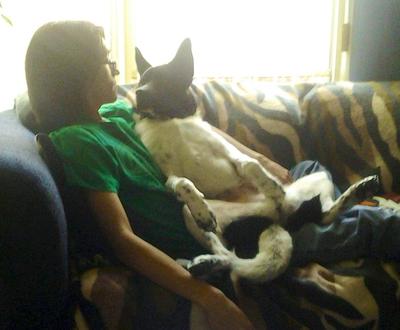 The girl I have been with for 3 years, I am madly in love with her(she's 17 about to graduate. I'm 20 on summer break from college).


The day after my birthday (May 2) she left me. Said she "needed time" or whatever. Naturally, I was angry and upset. We kind of talked things over but no progress was made. I felt like her back up plan.
It's been a month and she has shown no care or interest in me. I feel so lost, like I'm walking through a hazy dream. I find it hard to get out of bed or to even get up to eat. We spent everyday together for 3 years. There's nothing I can do to make myself not think about her.
I know we are young, but I was positive she was my soul mate. I've been in other relationships before that were based off teenage hormones, but this was completely different.
Now that she is gone I do not know what to do. I have not felt this much pain and sorrow since my mother passed away at age 14. I've considered suicide, but I can't leave my friends and family.
I'm on the edge of destruction and the only "advice" I get is "move on" or "just do you"
Nothing helps and I feel like I'm sinking into another neither world. Someone please help me...I can't stand this pain AGAIN.
~~~~~~~~~~~~~~~~~~~~~~~~~~~~~~
Dillon,
I am so sorry your heart is feeling so much pain right now. I have been there several times and I know how hopeless you must feel.
Letting go of someone you truly love and feel connected to can be so challenging. However, if you think about it, unless she wants to be together what other option do you have? (Aside from suicide, which I am proud of you that you know that really is not the answer)
Here are a few things to think about:
1) Approach this as an opportunity for growth / reflection
Each relationship that we have is part of our journey. It
not only leads to our own personal growth and development but it also, ultimately, prepares us for the person who really is "THE One".
2) Love yourself more than you loved her
By that I mean, connect with the amazing person that you are and all the great qualities you bring into this world. Know that you are here for a reason. That you deserve to be happy. That you deserve to have someone who really loves you. Someone that loves you for all of who you are - faults and all. If you know you are worthy of love, you won't settle for someone who doesn't truly love you.
3) Trust in the Universe
Know that, while you don't know the grand plan right now, this is a part of your journey for a reason. Trust the journey ~ honor it as part of your life's process and let it unfold.
4) Surrender to your feelings
Surrender to your feelings no matter how raw they might be. I can't emphasize enough how important it is to feel all of the pain. Give yourself permission to have a good cry. Let yourself get really angry at her. Take it out on a punching bag or some other inanimate object. (Of course don't project your anger onto other people or yourself!)
5) Use other methods to process through this
Consider other methods that will help you connect with yourself and your feelings. Things such as drawing pictures, writing in a journal (yes, even men do it!), listen to music that fits your situation, exercise, socialize....
Not sure what kind of music you are into but 2 songs come to mind. A
Little Bit Stronger by Sara Evans
and
Bless this Broken Road by Rascal Flatts
. Even if you're not into country music you might want to give these songs a listen!
Dillon, I hope this helps! You are in college, you have dreams and goals. You have so much life ahead of you. Know that in the grand scheme of things, this too shall pass!
In light and love,
Dana